How to choose the right school among many English schools for adults?
Search the net and you will find a great variety of English schools for adults. So how can you choose?
There are some key elements to consider before you make your choice.
Read the rest of the article or contact me directly for help: formazione@actionlineitaly.com
This article explains:
1. Where to go
2. What key elements should you consider?
4. Which school would I recommend?
6. When
If you are looking for German or Spanish courses abroad, please visit the following pages: German courses abroad or Spanish courses abroad.
Where to go
If you are in Europe, you can find English schools not only in the UK but also in Ireland and Malta.
Here are some thoughts about these destinations.
UNITED KINGDOM >I don't need to say much about London. Consider other cities such as Cambridge, Oxford, Portsmouth… to enjoy the quiet of a smaller city. You will have more chances to get in contact with locals.
IRELAND >there are a lot of English schools in Dublin. Dublin is not too big and people are friendly. This means it will be easy to chat with someone going around the city. And Ireland is an amazing country!
MALTA > it is a good choice if you want to combine English classes and a holiday at the beach. Do consider a lot of people speak Italian as well.
What key elements should you consider?
I do suggest you take these points into consideration: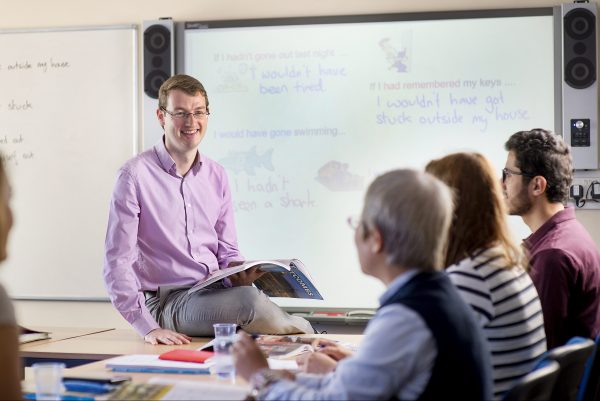 students/teacher ratio: choose small groups
There will be only one teacher in the classroom, so be sure there are not too many students. This way the teacher will be able to focus on individual needs and will have time to really listen to you. The perfect number would be 6, but for sure not more than 10.
the average age of the students
Find a school where classes are made up of students of your age. If you are 40, it is easier to communicate and do pair activities with people of a similar age. Maybe an 18-year-old student has a different background from yours and you could lack subjects of conversation. And viceversa.
the nationalities
Make sure the school you are choosing has international students so that you can really practice English … and not your mother tongue!
when was the school opened?
Being old does not necessarily mean being good. But you will probably find a lot of comments on it and they can be very helpful.
where is the school? The smaller the city, the more chances you will have to practice the language with locals. And that's really important because you learn by speaking to other people, especially native speakers.
How long should you stay?
It depends on your level and your objectives.
Generally speaking, I would recommend a 2 week stay so that you can get the most out of it. But if you are a busy businessperson, you can go for 1 week, hopefully twice a year.
It really depends on you: your budget and your time.
Which school would I recommend?
In the UK we have been working with two schools: Language Specialists International (Portsmouth) and Bell (several cities). Both are very professional with qualified teachers and international students.
Choose Language Specialists International if:
you are a business person looking for Business English courses and you would like to study with adults (minimum age 25 – average age 40)
your main concern is to study General English with people who are over 30
you are looking for General English courses for young people aged 18 to 30
the sea and a mild climate are your priorities
Choose BELL if you are looking for courses for young learners:
Junior courses are for kids aged 7 to 10
Young learners courses are for kids aged 11 to 17 or for over-16
you want to choose different types of accommodation: college, homestay, private flat
you like historical cities such as Oxford and Cambridge
How much is it?
It depends on the type of course and accommodation and how long you are there for.
One week in Portsmouth for adults in a family is from £ 505.
One week in a Bell school for peolpe over 16 plus family homestay is from £ 605.
The flight ticket is on you while our help is for free 🙂
When are the courses?
English schools are always open so courses are held throughout the year.
Contact details
For any information, do contact us either by phone (+39 0543 23916 – 0544 202061) or e-mail: formazione@actionlineitaly.com
Do you prefer a Skype call? No problem. You can reach us on:
action_line
beatricebalducci