Learn the language in the country!
Our close partnership with two renowned institutes means we can recommend German courses in Germany,
The Did Deutsch-Institut offers courses for adults and young people in different centres throughout Germany. The Sprachinstitut TREFFPUNKT (for adults only) is based in Bamberg..
Here they are, in alphabetical order!
DID DEUTSCH-INSTITUT
40 years of experience and more than 5,000 students a year guarantee professionalism and reliability.
The institute organises courses for adults and young people throughout the year, at its centres in Berlin, Frankfurt, Munich and Hamburg.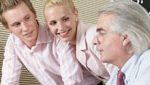 What do they offer?
They organise both group and one-to-one courses, from beginners to advanced level.
You can choose between:
Standard: 20 lessons per week
Intensive: 24 lessons per week
Premium: 28 lessons per week
2. German courses for young people

What do they offer?
summer courses for young people between 8 and 17 years old
minimum stay: 2 weeks
centres:  Aschaffenburg, Augsburg, Berlin, Frankfurt, Hintersee, Cologne, Munich, Nuremberg, Potsdam, Vienna, Wiesbaden
extra-curricular activities: outings in the city, educational excursions, themed nights, board games, drama and all kinds of sport (football, volleyball, swimming, badminton, ping pong etc.).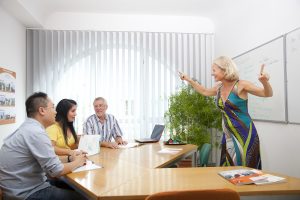 3. German courses for business
What do they offer?
one-to-one lessons for business
4 – 12 lessons a day
one-week minimum stay
accommodation with a chosen family or in a hotel
option to have lunch with the teacher
centres: Berlin, Frankfurt, Hamburg or Munich.
The topics are directly related to the world of work and chosen with the participant.
The full immersion experience is enriched by the opportunity of having lunch with the teacher.
On completing the German course, maximise the potential for your professional career with experience in the field, with an internship in a German company.
The internship programme is accessible only in conjunction with a Standard, Intensive or Premium German course (minimum duration 6 weeks), for young people between 18 and 26 years old. Your German level should be at least B1.
There is no end to learning! The institute organises courses all year round, each lasting 2 weeks, specifically aimed at German teachers and professionals. Advanced level only.
The course consists of 26 lessons a week, alternating teaching theory and in-class experience with qualified teachers to see teaching methods applied to different groups of students.
A one-to-one in-depth lesson will be included.
Frankfurt centre
For information: +39 0543 23916 – 0544 202061 – formazione@actionlineitaly.com
Alternatively, contact the institute directly by writing to: office@did.de 
SPRACHINSTITUT TREFFPUNKT
Founded in 1995, Sprachinstitut Treffpunkt is a school that specialises in teaching German to adults.
It is situated in central Bamberg, declared a UNESCO World Heritage site in 1993.
The programmes are specifically created for adults. There is plenty of opportunity for speaking activities and learning new vocabulary.
The advantages:
personalised programmes
two teachers per group
groups of five students
additional extra-curricular sessions
weekly monitoring
There are two teachers per group to experience different teaching methods and get used to hearing different accents.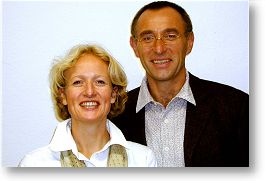 Alexandra von Rohr & Joachim Graff
The small groups ensure that each student receives careful attention with opportunities to participate and reach their personal goals.
The six additional extra-curricular sessions allow you to practise the language in a variety of contexts.
Written and oral tests enable the staff to monitor your level week by week.
A placement test, completed online before the start of the course, means you get off to a strong start.
You can change at any time if the programme is not right for you.
What do the offer?
General German courses
German courses for work
Preparatory lessons for exams
One-to-one Skype conversations
A bit about Bamberg
This splendid Bavarian city, moulded over centuries and stretching over seven hills, has a population of roughly 70,000 inhabitants. Declared a UNESCO World Heritage site in 1993, it is known for its important beer production and particularly for the Schlenkerla brewery dating from Mediaeval times, which produces the unique and characteristic Rauchbier (literally, smoked beer).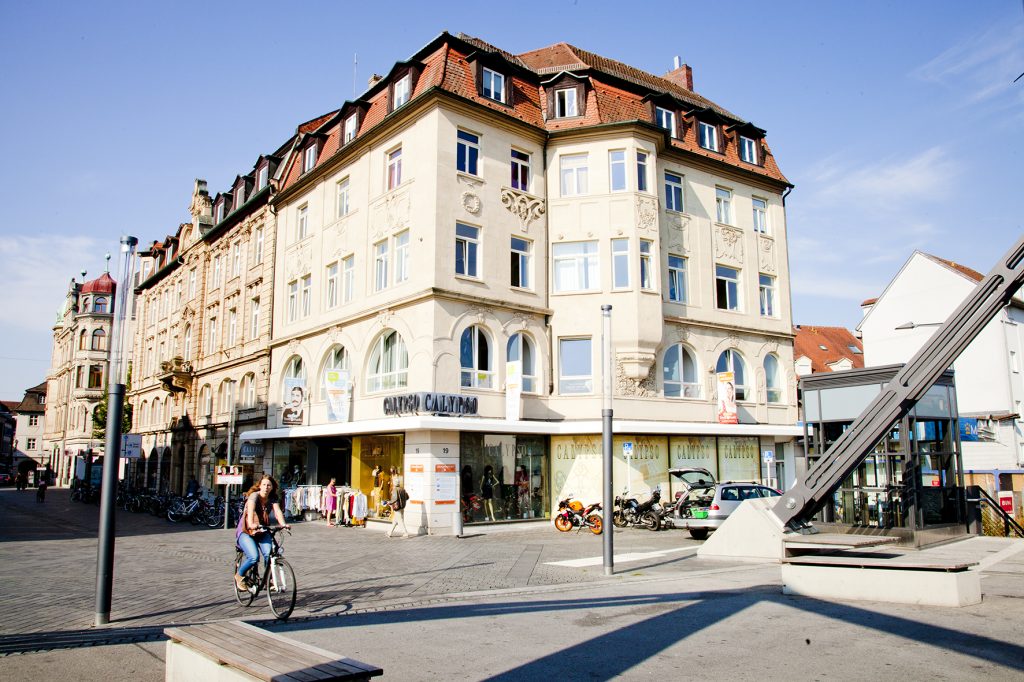 Treffpunkt Centre in Bamberg
Walking through the streets of the city centre and visiting the numerous places of interest is a real delight: the Kaiserdom, the Old City, the Alteb Hofhaltung, the Neue Residenz, the Klein-Venedig (little Venice, an area of picturesque fisherman houses along the Regnitz) and more.
For information: +39 0543 23916 – 0544 202061 –  formazione@actionlineitaly.com
Alternatively, contact the institute directly by writing to treffpunkt@learn-german.com