Full-immersion in Germany
The student will be living in the home of the teacher. Teaching is in-house, in one-to-one
lessons. The focus is on speaking only German every day, from morning till late. Meals will also be taken with the teacher.
The practical lessons, mostly taking place outside the teacher's home in the afternoon and / or evening are also accompanied by the teacher or a teaching colleague.
It is often chosen by learners from a business environment who do not have a lot of time at hand and are coming for 1 to 3 weeks to develop their German language skills in an area of their choice. If possible, try to stay at least 2 weeks.
It is also the most suitable programme for students seeking intensive and tailor-made preparation for any exam, ensuring that by the time they take the exam they can be confident they will pass it.
Key elements

The course focuses on the specific language, communication and vocabulary skills you need in order to use German effectively in your professional life. You will cover:
the German you need for meetings, negotiations and presentations
how to talk about the organisation you work for and your role in it;
how to improve your telephone communication skills
how to write reports and emails
the social German needed to meet, entertain and socialise with colleagless. s and clients.
Personalising the course for you

Your teacher…
will adapt the course to your individual business or professional requirements
will assess your level of German at the beginning of the course
will plan an individual programme of study for you
will focus on the points which are limiting your ability to communicate in German.
Extra benefits
Intensive individual lessons maximise your progress.
Living in your teacher's home provides total immersion in natural, everyday German.
The extra language practice outside lessons will greatly contribute to your fluency.
If your level is upper-intermediate, you can choose to stay for a long week-end, Friday to Monday.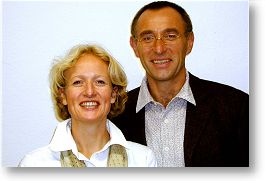 Visit the webpage home tuition for more information. Or, if you prefer, write an e-mail to info@businessgerman.com Alexandra and Joachim will be happy to help you.
As an alternative, e-mail us formazione@actionlineitaly.com or call us on +39 0543 23916 / +39 0544 202061.