Perché è utile conoscere la terminologia calcistica e le espressioni più usate quando si parla di campionato inglese?
Quando si fa affari con clienti stranieri, il campionato inglese, la "liga" spagnola, la Champions league, ecc. possono essere argomenti di conversazione.
Rimani quanto più diplomatico possibile ed evita di schierarti per una squadra piuttosto che l'altra.
Ma è utile conoscere dei termini per parlare di calcio! La mimica aiuta, ma noi aiutiamo la mimica con un approfondimento terminologico.
Vorresti  trovare spunti di conversazione con gli amici e collaboratori all'estero? Fare qualche battuta sul calcio internazionale? sulle squadre italiane? o le partite appena giocate?
Anche la cena di lavoro più noiosa potrebbe essere alleggerita e diventare addirittura piacevole.
Di solito quando si pensa ad una lezione di inglese per adulti ci si immagina di affrontare argomenti quali descrivere se stessi e il proprio lavoro oppure il linguaggio delle negoziazioni.
Noi oggi parliamo di calcio.
Tutti sanno cosa significano corner, cross, offside. Perché si usano anche in italiano.
Se sei un appassionato di calcio internazionale, conoscerai altre espressioni. Ma sarai uno dei pochi.
Chi ha fatto al corso di inglese una lezione sul campionato inglese? Chi ha studiato il lessico del calcio e le espressioni necessarie per tenere una conversazione in inglese su questo argomento?
Credo che la risposta sia nessuno!
Ecco come è nata la nostra idea. Vogliamo proporvi qualcosa di unico!
Cosa troverai nel nostro articolo?
telecronaca di una partita
1. Telecronaca di una partita
Qui trovi un testo in inglese estrapolato dalla telecronaca di una partita di calcio (Champions League, Manchester City-Barcelona 3-1 – 1 Nov 2016), seguito da un glossario di terminologia calcistica inglese-italiano.
Ovviamente questo glossario non è esaustivo, perché l'argomento è troppo vasto per trattarlo in un'unica volta.
Se l'argomento susciterà l'interesse di chi ci segue, il glossario potrà essere ampliato e arricchito di nuovi termini ed espressioni. Magari tratti dalla telecronaca di una partita del campionato inglese.
Scriveteci quindi le vostre impressioni!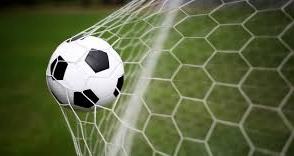 ENGLISH TEXT (N.B. Nel testo sottostante sono evidenziati in grassetto i termini e le espressioni più importanti, inclusi nel glossario).
Champions League, Manchester City-Barcelona 3-1 – 1st Nov, 2016
Welcome to our minute-by-minute commentary of today's match. Have fun.
Today's referee will be Viktor Kassai. Barcelona will have the kick-off.
2' Lionel Messi (Barcelona) displays his superb passing ability after picking out Neymar with a fine lofted pass and their attacking move continues.
3' The assistant referee raises his flag. Sergio Aguero (Manchester City) is found offside.
7' Lucas Digne (Barcelona) pulls the jersey of one of the opposition players, and Viktor Kassai blows his whistle for a foul.
9' Fernandinho (Manchester City) commits an ugly challenge. The referee sees it and immediately blows the whistle. Barcelona are awarded a free kick.
10' That was a poorly executed free kick from long distance. Lionel Messi (Barcelona) was trying to produce a cross into the penalty area, but his effort sailed off the pitch. The ball goes out-of-play and Manchester City will have a goal kick.
20' Ivan Rakitic (Barcelona) can't expect anything else than a yellow card for his hard tackle. And a yellow it is. Viktor Kassai doesn't think twice to pull it out of his pocket.
21' Goal! Neymar plays a pass to the feet of Lionel Messi (Barcelona), and he takes a shot from inside the box which goes into the bottom left corner. It's 0:1.
28' Neymar (Barcelona) zig-zags his way into the box and directs a shot into the top left corner, but the goalkeeper pulls off a miraculous stop. The ball is out-of-play. Barcelona win a corner kick.
29' Neymar (Barcelona) makes an awful challenge on his opponent and can count himself very lucky for not receiving a red card from the referee.
38' Luis Suarez (Barcelona) attempts to send over a cross in order to find one of his teammates, but an opposition defender averts the danger by intercepting the effort. The referee blows his whistle, Barcelona are awarded a corner kick.
39' Goal! Ilkay Gundogan (Manchester City) scores after an assist by Raheem Sterling that allowed him to tap in the ball into an empty net. The score is 1:1.
45 + 1' The first half of today's match has just finished.
Second half
49' Nicolas Hernan Otamendi (Manchester City) was trying to get to the ball but hit the legs of the opponent as well. Viktor Kassai blows the whistle for infingement. Barcelona are given an advantage. They have a free kick. Lionel Messi (Barcelona) puts a cross into the box from the free kick, but the defender gets there first.
51' Kevin De Bruyne (Manchester City) produced a brilliant shot from about 20 metres straight into the roof of the net. The goalkeeper didn't expect such a great free kick.
52' The game is interrupted, a clear handball by Lucas Digne (Barcelona).
60' Aleksandar Kolarov (Manchester City) is shown a yellow card by the referee for making a challenge on his opponent, but he looks angry with the decision. Fernandinho (Manchester City) is substituted due to injury. Pep Guardiola gives a chance to Fernando.
65' Andre Gomes (Barcelona) latches on to a sweet pass on the edge of the box and unleashes a brilliant shot towards the goal, but he hits the crossbar!
66' What a chance that is! Kevin De Bruyne (Manchester City) wastes a huge opportunity as he receives a beautiful pass on the edge of the box and fires towards the net, but unfortunately for him, he hits the right post!
68' Raheem Sterling (Manchester City) is offside and the linesman raises his flag.
74' It's a goal! Sergio Aguero plays the ball to the feet of Ilkay Gundogan (Manchester City), who hits a tremendous first-time shot which goes into the middle of the net. The goalkeeper was unable to keep it out. 3:1.
74' Sergio Busquets (Barcelona) attempts to discuss the decision with Viktor Kassai, but he soon realises that it's not the right thing to do as he sees the yellow.
88' Luis Suarez (Barcelona) sends in a pass which fails to reach any of his teammates.
90' Jesus Navas (Manchester City) manages to dispossess his opponent of the ball, but he commits a foul in the process and the referee blows the whistle. Barcelona win a free kick. A promising situation for a direct shot. 3 additional min. will be played.
90 + 4' That is the end of the match.
We have seen a great game today, let's hope the players will be able to maintain these high levels of play in order to keep fans entertained in future games. Dominance of this game was on the home side. The home players pressed a lot which put the away team in difficult situations, but they still presented themselves with possession football.
2. Glossario Inglese-Italiano
Se vai a trovare un cliente inglese o se lo ricevi in visita, non perdere l'opportunità di commentare sul campionato inglese con questo utile glossario.
English
Italiano
away team
squadra ospite
box
area
challenge
contrasto
chance
occasione
corner kick
calcio d'angolo
counter attack
contropiede
crossbar
traversa
defender
difensore
English championship
English soccer championship
campionato inglese
Campionato inglese di calcio
 first half / second half
primo tempo / secondo tempo
 flag
to raise the flag
bandierina
alzare la bandierina
 foul
to commit a foul
fallo
commettere fallo
free kick
to win/to have/to be awarded a free kick
to take a free kick
calcio di punizione
avere un calcio di punizione
battere una punizione
 goal
ex. a brilliant shot towards the goal
it's a goal!
 porta
es. un ottimo tiro in porta
rete! / goal!
 goal kick
 rimessa dal fondo / rimessa del portiere
goalkeeper
portiere
handball
fallo di mano
home team/side
squadra di casa
jersey
to pull the jersey of an opposition player
maglia
tirare la maglia di un avversario
kick-off
calcio d'inizio
linesman
guardalinee
lofted pass
tiro alto, parabola, pallonetto
match
partita
net
rete (della porta)
offside
fuorigioco
opponent (noun)
avversario
opposition (adj.)
avversario (aggettivo)
opposition player
giocatore avversario
opposition defender
difensore avversario
pass
passaggio
penalty
rigore
penalty area
area di rigore
pitch
campo
post
palo
referee
assistant referee
arbitro
assistente dell'arbitro
score
to score (a goal)
punteggio
segnare (un goal)
shot
to take a shot
tiro
fare un tiro
stop
parata
tackle
scontro, contrasto
teammate
compagno di squadra
whistle
to blow the whistle (for a foul)
fischietto
fischiare un fallo
yellow card
to receive a yellow card
cartellino giallo
ricevere un cartellino giallo

(17:23 minutes)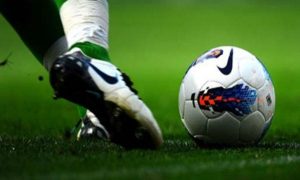 Watch a short video of the match. Keep the glossary above for reference and try to get as many football words as you can.
How many words did you manage to note down?
Adesso potrai parlare del campionato inglese o della Champions League anche con clienti stranieri.
Se ti interessa esercitarti ancora sul calcio faccelo sapere e prepareremo altre attività specifiche per te (fill-in-the-blank, word matching, listening activities, etc.).
Scrivici su formazione@actionlineitaly.com
Skype: action_line
Tel. 0543 23916 (sede di Forlì) oppure 0544 202061 (sede di Ravenna).