Imparare divertendosi? Si può! Con la nostra lezione di inglese
Parlare di shopping non è mai stato così semplice! Questa lezione di inglese ti guiderà attraverso un mondo affascinante, quello della moda!
La moda è uno dei motivi per cui siamo conosciuti in tutto il mondo.
Eppure noi italiani siamo piuttosto in difficoltà quando dobbiamo tenere una conversazione in inglese sul tema del vestiario.
In questa lezione di inglese si parlerà di CLOTHING (vestiario).
Contenuto della lezione
EXCERCISE 1.  Watch this VIDEO and listen to the basic words of clothing, then look at the picture below.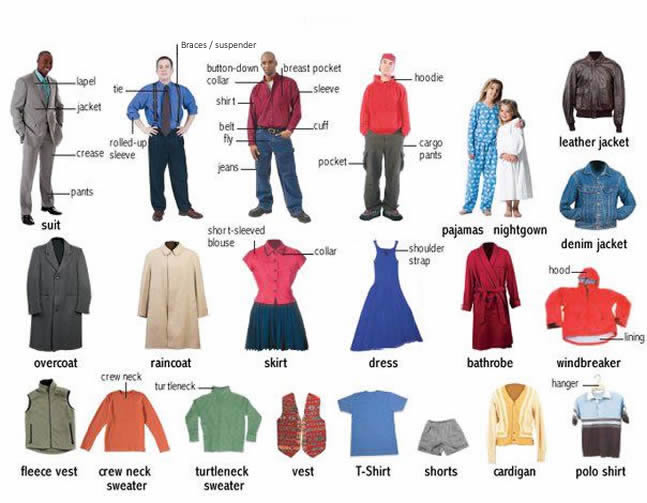 EXERCISE 2. Match each word with its definition
| | | | | | | | | | |
| --- | --- | --- | --- | --- | --- | --- | --- | --- | --- |
| BLOUSE | SUIT | HIGH HEELS | BATHROBE | DRESS | SHORTS | BRA | OVERCOAT |  DRESSING GOWN |  SWEATER |
a piece of clothing for women or girls that covers the top half of the body and hangs down over the legs
a jacket and trousers or a jacket and skirt that are made from the same material
a loose piece of clothing like a coat, usually made of thick towelling material, worn informally inside the house, especially before or after a bath
a long thick coat worn in cold weather
a piece of clothing, typically with long sleeves and made from wool, that is worn on the upper part of the body
women's shoes in which the heels are raised high off the ground
trousers that end above the knee or reach the knee, often worn in hot weather or when playing a sport
a shirt for a woman or girl
a loose piece of clothing like a coat, worn informally inside the house, especially before getting dressed in the morning or after getting undressed in the evening

a piece of clothing that is worn by women under other clothes to cover and support the breasts
Read this glossary including adjectives and expressions to talk about clothing
Adjectives
casual: not formal
classic: a simple, traditional style that is always fashionable
smart: the kind of clothes worn for a formal event
timeless something that doesn't go out of fashion
vintage: clothes from an earlier period Ellen was shopping at a thrift store last week and she found an amazing vintage Chanel jacket
must-have: highly essential clothes that you must have in your wardrobe this season. Clothing must-haves are highly fashionable and therefore in demand
stylish / fashionable: wearing clothing that is popular now
latest: newest, most recent
in: popular, fashionable; short for 'in style'
hot: wanted, everybody has to have it
trendy: what everyone else is wearing right now; a new, popular style
Expressions
to be on trend: to be very fashionable
to look good in: to wear something that suits you
to suit someone: to look good on someone
to get dressed up: to put on nice clothes, often to go out somewhere special
to go out of fashion: clothes that are not in fashion any more
to be old fashioned: to wear clothes or do something that is no longer in style
to have an eye for (fashion): to have a good taste and know what is "in fashion" and what is not
to have a sense of style: to know what looks good on you and have your own style and taste
to be dressed to kill: wear something with an intention to stand out/impress people and be noticed
to dress for the occasion: to wear something in the right place at the right time
to be well dressed: attired in clothing that is of fashionable, expensive and properly fitted
fashion icon: someone or something who is very well known as an example of style and high fashion
fave: informal, slang, short for 'favourite'
EXERCISE 4. Fill in the gaps with one of the words/expressions in the GLOSSARY above (sometimes there is more than one possibility)
a. Stella McCartney is my _______ fashion designer.
b. The new Prada boots are so _______ all the stores are sold out and there is a waiting list for them!
c. Crocodile bags are very _______ this season.
d. Do you wear the _______ fashion trends, or wear what is comfortable for you?
e. The new Prada handbag is this season's _______ accessory!
f. Ralph Lauren has put his unique touch on the _______ womens' black dress.
g. Ellen was shopping at a second-hand shop last week and she found an amazing _______ Chanel jacket.
h. The man was ____________ in a tuxedo, hat, gold watch and expensive shoes, because he was going to accept an award.
i. Sally _____________ her new dress.
Solutions for exercises 2 and 4
EXERCISE 5. Enjoy yourself watching a short video from the movie "Confessions of a Shopaholic".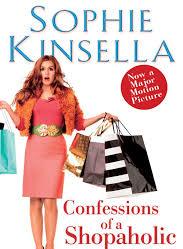 Are you a shopping addict like the film protagonist Becky Bloomwood? What kind of clothes/accessories (casual, classic, trendy…..shoes, scarves, glasses, hats….) do you like wearing/buying?
IMPORTANT: Write us about your shopping habits on formazione@actionlineitaly.com. We shall correct your English text and return it to you by e-mail, so you'll be able to check your work and improve your writing skills.
Se la nostra lezione di inglese sulla moda ti è piaciuta, condividila con Facebook, Twitter, Linkedin, Google+. Fai sapere ai tuoi amici che hai trovato del materiale utile e … diverso dal solito!
Ti possono interessare anche altri articoli:
E facci sapere: cosa vorresti trattassimo nella prossima lezione di inglese?