How to learn a language with online Duolingo and Busuu courses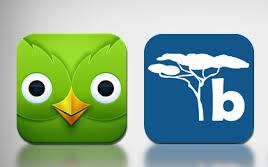 Why Duolingo and Busuu?
It goes without saying that with an app you can't learn everything, but in terms of taking the first steps toward learning a foreign language or revising and practising what you've studied in class, you can take advantage of online courses available on a tablet or smartphone.
Even if the language learning apps cannot replace a real-life language course, they do give us a good opportunity to continue learning in our free time.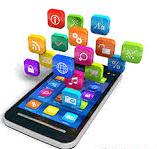 Given that these days everyone seems to always be staring at a phone, we can all set aside ten minutes here and there to practise a language, for example when travelling or queueing in a supermarket.
For your benefit we have put to the test two of the most famous language learning apps, Duolingo and Busuu.
A COMPARISON OF DUOLINGO AND BUSUU
DUOLINGO
It is presented a bit like a game, with a simple and intuitive interface. The graphics are fun and eye-catching. The little Duolingo owl mascot follows you while you learn.
It's suitable for all age ranges, and is especially suited to those who are already learning a language and want to revise and practise it every day.
The app is completely free.
BUSUU
The content is rich and well-structured, with a large variety of exercises.
It allows you to learn more of the foreign language, but it is also more time-consuming.
It is free, but if you wish to receive lessons at a deeper level you need access to the Premium version, which requires a monthly subscription.
It is mostly aimed at adults.
DUOLINGO
The learning is mostly based on repetition (through flashcards and audio recordings of words and phrases).
The exercises are not limited to writing tasks, but they also make you speak!
It is stimulating because it lets you earn points for correct answers, and lose them if you get answers wrong. The little hearts and the "strength" bar motivate you and make you stick with it.
BUSUU
Here the learning is also based on repetition of words and phrases, with the help of flashcards and the chance to listen to how words are pronounced by a native speaker.
The really interesting thing about this app is that you can interact with other users. It gives you the opportunity to connect with native speakers in such a way that allows you to refine your own linguistic techniques, obtain feedback from exercises you have completed and correct exercises completed by other users.
DUOLINGO
Before starting, the app provides you with a test in order to establish your level.
The course is structured into focused learning units that deal with very simple topics (e.g. family, animals, food) and grammar basics (e.g. adjectives, prepositions, tenses)
The lessons must be done in the correct order. You begin with the basics and gradually find yourself undertaking the more difficult levels.
More expert learners can unlock the content of later lessons by passing a test ("Test out"). This is an interesting idea.
Previously completed lessons can be repeated at any point and, in addition, you can do memory exercises in order not to forget what you've learnt.
BUSUU
The course is structured into learning units, categorised into learning levels that are aligned with the Common European Framework of Reference for Languages (A1, A2, B1, B2).
The lessons are split up into topics (e.g. my day, doing the shopping, going on holiday, in the kitchen, etc…) and give you the basics you need to navigate your way through various real-life situations.
You can complete the units in any order you like!
DUOLINGO
This app contains self-correction exercises (both written and oral), in such areas as pronunciation, listening, translation and multiple choice questions.
The activities are short, simple and repetitive.
There are not only written exercises, but activities that make you speak!
The "challenge friends" option, which works through a point scoring system, offers a fun and pleasant way to learn.
It lacks written exercises that would help to consolidate your ability to express yourself through writing.
It lacks grammar explanations.
BUSUU
The exercises are short but effective, and you can do them during a coffee break or whilst travelling.
The free course provides you with VOCABULARY, CONVERSATIONAL, WRITTEN, and REVISION exercises, as well as with BUSUTALK (a chat in which you can write to or talk with a native speaker).
If you make some mistakes in an exercise, you need to repeat it until you achieve the minimum amount of points requested (for example, 8 out of 9). Only upon passing can you continue to the next exercise within the learning unit.
It doesn't provide you with proper grammar information, however as you proceed through the lessons it will give you some grammar TIPS.
It is stimulating to see your exercises corrected by mother-tongue users, and to correct the exercises of other users yourself!
DUOLINGO
The app keeps you constantly up to date with your progress, showing you your learning rate at the top right of the main screen. The "strength bar" tells you how much time you have dedicated to the language learning.
BUSUU
The programme shows you the percentage of your personal progress.
In the "my Vocabulary" section you can find a summary of terms you have learnt and take tests on the lessons you have already completed.
DUOLINGO
Pros:
Free, fun and involving, it turns studying into a game.
Completely free
Cons:
The exercises are a bit too repetitive. Sometimes the phrases they give you to practise are a bit ridiculous and unlikely to ever be useful in real life.
BUSUU
Pros:
Rich in content, draws on real life situations, a wide variety of exercises
Allows you to interact with other users
Cons:
It makes you listen to conversations and the correct pronunciation of words, but there are no exercises that give you feedback on your own pronunciation.
To unlock all the lessons you need to pay a subscription fee.

Now that you have information about all the various elements at hand, you can make your choice!
We will continue to give you advice: in the next article dedicated to language learning apps, we will introduce you to the online course, Aba English.
Stay tuned!
Keep following us and send us your queries and comments!
Below are our contacts:
Salva